E&E Foods, Inc. Seattle Area Plant
E&E Foods, Inc. Seattle-Area Plant
At its Seattle-area plant, E&E Foods, Inc., specializes in cutting fresh and refresh fillets of both wild Pacific, and farmed Atlantic salmon, as well as portions of a variety of fish sourced from around the world. The plant has cold storage capacity for nearly three million lbs. of frozen product, and an experienced and stable workforce for filleting and portioning.
The plant is USDC HACCP Quality Management Program certified and operates in full accordance with HAACP, FDA, EPA and European Union Guidelines. The plant also holds British Retail Consortium (BRC) certification and received an "Excellent" rating from Mérieux NutriSciences (Silliker), a third-party audit service.

The plant maintains an average air temperature of 45-50°F. Air and product temperatures are checked every two hours. H&G salmon are hand filleted and trimmed to a D trim fillet. Fillets are pin boned by machine, then inspected by experienced graders for quality and any remaining bones. The fillets are sprayed with ozonized water at the filleting and pin boning step to reduce bacteria and increase shelf life. Fillets are Cryovac vacuum packaged – two per pouch – in OTR bags.
As a seafood company whose success depends on the sustained abundance of commercial fishery resources, the E&E Foods Seattle-area Plant is a Marine Stewardship Council (MSC) certified supplier.
For more information and to place product orders, please contact our sales team. We look forward to fulfilling your wild salmon and seafood requirements while exceeding your expectations for price, service, quality and yield/recovery.

REFRESH SALMON FILLETS
E&E Foods, Inc. has over 20 years of experience delivering high quality, tailored seafood solutions to our customers. We bring this expertise to our new Refresh Salmon Fillet program. Designed for US retailers and major distributors, this program offers our customers an opportunity to save money on high quality salmon that is delivered as needed.
ON DEMAND DELIVERY
Using ozonized water and Cryovac oxygen transmission rate (OTR) packaging to extend shelf-life, this customized program helps you consistently offer salmon at its peak, while reducing the need to hold large inventories of frozen fillets.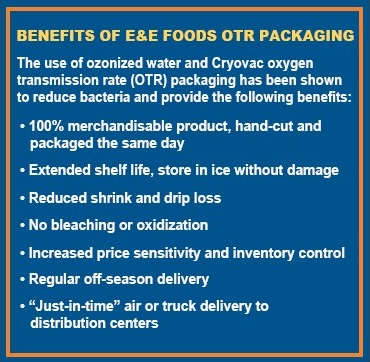 E&E Foods' Refresh Salmon Fillet program provides high quality, temperature controlled salmon fillets that are hand-cut and delivered directly to your distribution center in response to in-store promotions and consumer demand.