Yakutat Seafoods
Yakutat Seafoods
Yakutat Seafoods was established in 2005 in partnership with Yakutat based-partner, Greg Indreland. E&E Foods, Inc. has been selling products from Yakutat since 1996 and has extensive knowledge of the local fish and fisheries.
Strategically positioned between Sitka and Cordova, on Alaska's "lost coast," Yakutat Seafoods is the northern most processing plant in Southeast Alaska. Yakutat Seafoods is well known by the fishermen of the troller fleet, longliners and set net gillnetters, who deliver abundant quantities of ocean troll caught coho and king salmon, net caught sockeye, king and coho salmon, and longline caught halibut and black cod. Our net caught fish are bled on board and slush iced to ensure quality. All seafood products are promptly shipped to Seattle or directly to destinations across the globe.

Fresh wild Alaskan Salmon and Halibut is available from Yakutat Seafoods during harvest. Fresh- frozen wild Alaskan Salmon, Halibut and Black Cod is available year-round in a variety of packaging and product forms.
As a seafood company whose success depends on the sustained abundance of commercial fishery resources, Yakutat Seafoods, through E&E Foods, Inc., is a Marine Stewardship Council (MSC) certified supplier.
To ensure quality, Yakutat Seafoods operates in compliance with all state and federal regulatory bodies, has an FDA approved HACCP plan (Hazard Analysis and Critical Control Point, pronounced "Ha-sip") and European Union Control File Number (CFN) for seafood shipments to Europe.
For more information and to place product orders, please contact our sales team. We look forward to fulfilling your wild salmon and seafood requirements while exceeding your expectations for price, service, quality and yield/recovery.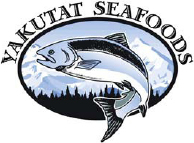 Yakutat Bay Wild Salmon Harvest:

June thru October

Catch Method:

Trolling and Set Net Gillnetting

Product Mix:

Troll: coho and king
H&G: sockeye, king, coho and pink
Fillets, IQF/vacuum packed: sockeye and coho
Salted Salmon Roe (Sujiko): king, sockeye and coho
Salmon Caviar (Ikura): pink

Primary Product Users:

Salmon smokers, value added re-processors, retail buyers and food service distributors

Yakutat Halibut and Black Cod Harvest:

March thru November

Catch Method:

Longline

Product Mix:

H&G: halibut
H&G: black cod